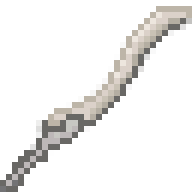 "Forged in Light, the blade will shrine Green on the destruction of your enemies, paving the way to Glory."
---

The Holy Blade is a special cosmetic weapon used by Paladins in place of a Dwarven Runeblade, and is their primary choice of killing monsters at close range.
The Holy Blade and its variations are all capable of activating a PROC.
Variations
Edit
Obtaining
Edit
Dwarves using the Paladin title after purchasing Super Jimmy and dwarves playing as RoaminThePaladin start the game with the Holy Blade.
Like the Runeblade, the Holy Blade cannot use Vanilla blocking, as it's a re-textured Diamond Hoe. This does have the side effect of it being able to till soil.
The Holy Blade is actually functionally a downgrade, as due to it being a hoe not an axe it can't break the vines infiltrator skeletons place as fast as a runeblade.